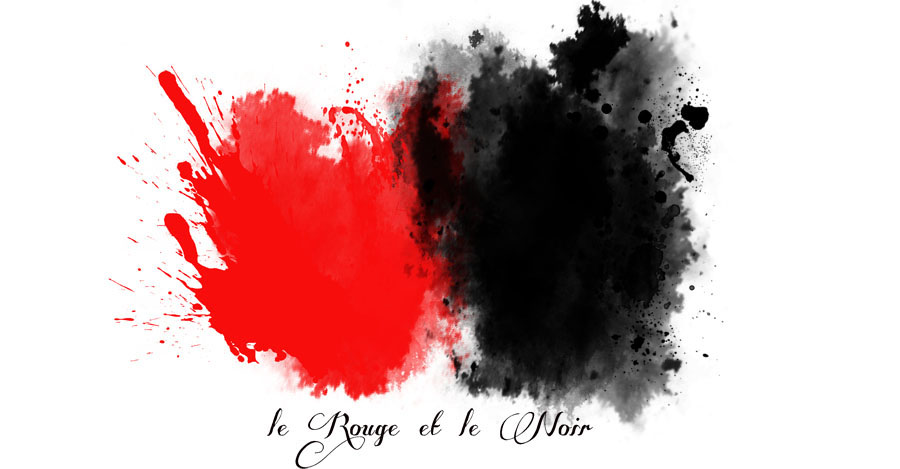 I feel like I've been punched in the stomach. Is that normal after reading a book?
This book is a classic and although I had used it as an example many a times before in high school dissertations I had never actually read it. (Yes I was smart like that!)
It is considered a masterpiece of french litterature and I must admit I was dubious on wether that was the case up until the end. I found some moments to be a bit long but I surely wasn't expecting the final unravelling that gives the book its whole tragic dimension.
I was shoked and disturbed and I still don't know what lesson this novel is supposed to teach. I wasn't sure if I liked the main character – Julien Sorel because the way Stendhal comments and intervenes into the storytelling made me feel ambivalent.
This story definitely makes you question love and the things we do to ourselves and others in the sake of love – or passion should I say. I wonder if passionnate love isn't purely evil and if we shouldn't focus more on pragmatic choices for our mating.
As I was saying in an older entry I am now convinced that there isn't such thing as an important writer that isn't also a moralist. At the heart of Le Rouge et le Noir is the moral question: the right and the wrong in the name of love.
And on top of that moral dilemma Stendhal's language is precise, elegant and sharp. I understand now why it's a masterpiece.
I've collected some little extracts that I liked.
"Enfin, il va me dire son secret, pensa Julien, le voilà qui me parle de lui ; il y a épanchement."
"Dans les caractères hardis et fiers il n'y a qu'un pas de la colère contre soi-même à l'emportement contre les autres; les transports de fureur sont dans ce cas un plaisir vif."
"Minuit sonna pendant le silence qui suivit le beau mot: je le ferai. Julien trouva que le son de la pendule avait quelque chose d'imposant et de funèbre. Il était ému"
"Forcé de passer huit jours à Strasbourg, Julien cherchait à se distraire par des idées de gloire militaire et de dévouement à la patrie. Etait-il amoureux? Il n'en savait rien, il trouvait seulement dans son âme bourrelée Mathilde maîtresse absolue de son bonheur comme de son imagination. Il avait besoin de toute l'énergie de son caractère pour se maintenir au-dessus du désespoir. Penser à ce qui n'avait pas quelque rapport à mademoiselle de La Mole était hors de sa puissance. L'ambition, les simples succès de vanité le distrayaient autrefois des sentiments que madame de Rênal lui avait inspirés. Mathilde avait tout absorbé; il la trouvait partout dans l'avenir."
"C'était une fatalité de son caractère d'être extrêment sensible à ses fautes. Il était fort contrarié de celle-ci et ne songeait presque plus à la victoire incroyable qui avait précédé ce petit échec…"
"Quelles ne seront pas ses prétentions, si jamais il peut tout sur moi ? Eh bien! je me dirai comme Médée : Au milieu de tant de périls, il me reste MOI."